So it is finally time to announce the incredible tour package that we are taking out in February and March. It is us and our new friends The Oohlas!!!!!!!!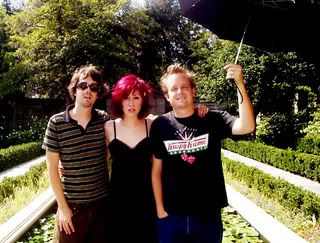 (
www.myspace.com/theoohlas
)
That's right, finally we have real news to announce!!! For the first time in a while there will be no more nonsense to write as we focus on the VERY serious task of making these tour dates the greatest shows we have ever played. Shows will be coming in for the next couple of weeks and we will continue to post them here until they are memorized by every man, woman and child in the United States and South America. This tour is great and will hit the West Coast like a thirty ton A-bomb of carbon monoxide (dangerous in the home)!!! Seriously if anyone misses these shows they will be sad in the future....it is true....i have seen the future and it is sad
Feb 19 2007 6:30P
El Corazon (All Ages) w/ The Oohlas
Seattle, Washington
Feb 20 2007 6:00P
The Venue (All Ages) w/ The Oohlas
Boise, Idaho
Feb 21 2007 7:00P
Kilby Court (ALL AGES) w/ The Oohlas
Salt Lake City, Utah
Feb 22 2007 7:00P
Muse (ALL AGES) w/ The Oohlas
Provo, Utah
Mar 2 2007 8:30P
Beauty Bar (21+) w/ The Oohlas
San Diego, California
Mar 3 2007 8:30P
Beauty Bar (21+) w/ The Oohlas
Las Vegas, Nevada
So make sure every human being you have ever met (including your other lover's mother) is at this shit!! I mean call up your friends little brother and be like "Are you going to see Lola Ray tonight...if not your a fucking DICK!!" That's how its done. Or just come and say "Hi" to us...that's cool to. We can't wait to get back on the road and see all our friends again. By the way here is another satisfied customer rocking one HELL of a Hoodie!!!
Take care and see you soon,
-brian