Hey y'all
Greetings from Texas. We just finished a two day marathon of South By Southwest in Austin that I am going to try and put into words here for you. Of course, the most important part of any SXSW experience is the actual show that you are there to play. Our show was Friday night and it was a real ripper of a show. It's not that we played particularly great or anything but it was more that we were so in awe of our great friends who came out and represented and made our show so much fun for us. South By really does feel like a form of "This is Your Life" for bands.
This is what the show felt like from stage from my perspective;
Start playing first song.....
guitar feedback and then into "We're Not Having Any Fun"......
stage sound sucks......whatevs, it sounds like we are playing alright.....
where am I?.....
try and not look like a douchebag.....
look out into the crowd......
Hey look it's James from Brazil!! His beard is way better than mine, dammit, that dude totally just showed me up......
turnaround and play guitar into my amp so I don't have to stare at another man's beard.......
sing chorus......look into crowd.....
Hey it Micah from Hawthorne Heights! He is the best guy in the world and totally rich now! I am jealous!......
Damn!!I wish some really rich guy was here to sign us and take us out to some ridiculous dinner (more on that later).....
Hey The Oohlas are here!!! Everything is right with the world!.....
David Wallace, BFF from New York in the House!!! He looks kind of drunk, he is my favorite drunk EVER!!....play more songs.....
Josh from New York is here, he is really a handsome man and deliciously well dressed........
Finish playing......load out and onto the packed streets of Austin! All i can say is thank god that all our friends came out to the show because it really was like playing for all of your favorite people in the world, what a treat!
On Friday night, after our show, I was treated to the first incredible show I have seen in a long DAMN TIME! Mr David Wallace politely escorted me at two in the morning to the Blender Space to see the Albert Hammond Jr (of The Strokes) show and it honestly blew my mind....We stood right up front and it was a full on face melt of triple guitar attack!! The best part is that his band is made up of four of the most curly haired men I have ever seen, honestly they made it look REAL good. For the first time I embraced my curls and felt proud in a new way. I felt like the Bee Girl in the Blind Melon video when she finds her friends in the field of other bee people. Then Kirsten Dunst swarmed the front of the stage and I scowled at her for bringing her ridiculous good looks into our curly haired man party. She ruined everything.
Saturday was a day off and we looked forward to spending the day soaking in the South By experience without the pressure of actually playing a show. We pretty much just spent the whole day soaking up the magic that is The Oohlas and hanging out with them on their beautiful hotel rooftop. Another highlight came when we had the extreme pleasure of joining the Oohlas and the magic queen of cool that is Sarah Ultragrrrl in a delicious Sushi Dinner that included many Sapporos and the most delicious sushi roll I have ever eaten! Thanks to Sarah and The oohlas for such a great evening and such great company as always!
That night we saw another great show when we got to watch one of my favorite bands Cursive. Here we are standing outside of a party and watching them through the chain link as the ultra cool stood inside and watched them from the safety of their coolness radiations.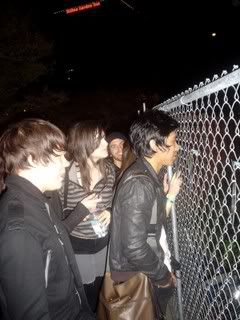 We also saw the cops swarm up on some bloody woman who had been beating asses in the ally all night. It took eighty cops to sedate this lady and I like this picture cause the cops armbands are glowing in the night like the transformer GI Joe Ho Bags that they are.
So to sum up the whole experience it was just so nice to see all the great people that we are so lucky to be friends with in one tiny city. We left Austin under an overcast sky and headed to Dallas to officially start our next tour. We can't wait to see y'all out at our shows coming up and please have a great day and night and afternoon and morning....
-brian