So up until two weeks ago I had a favorite band.....Frozen Embryos. They are super indie, they are so indie that they only wrote one song EVER and only rehearsed a couple of times. They had a chronic nail-biting songwriting genius named Jordan Catalano (played by Jared Leto) who penned an anthem named "Big Red" that cut right to the impressionable young heart of a beautifully flanneled young tart named Angela (Claire Danes). The band only appeared on one episode of My So Called Life, but ever since their incendiary performance on episode #14 of the short lived show I have championed them as possible the greatest musical project of all time.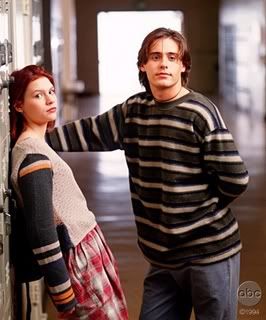 That all ended for me about two weeks ago on the first night of our tour with The Oohlas. We had already watched and loved the bands video and songs and were really excited to hear them live, but secretly hoped that they would not be TOO good, making it difficult for us to bring the noise every night in the way that we were accustomed. So you can imagine my seething anger when The Oohlas first took to the stage and proceeded to dominate the stage with not only a incredible live energy but also the best songs I have heard in fucking forever. It sucked...it quickly became apparent that we were going to have to get up on that stage every night for two weeks and play after our absolute new favorite band!!
And as if it wasn't enough that these bastards had great songs, a great live presence and the balls to tour in a Mini Van, we quickly learned the harsh reality that...ugghh..they are awesome people as well. Goddamit!! They have everything, but we are not jealous..no...instead we have spent the last two weeks revelling in the pure delight of being on tour with, honestly, our favorite band and some of our favorite new friends. All bullshit aside I am thankfull for nothing more in my life than the fact that our band has gotten to a point where we get the absolute pleasure and treat to share the stage with bands that we love and respect. So Yay For The Oohlas!!! Yay for Lola Ray!! And Yay to All our friends who came out to these shows!! And Yay to Jordan Catalano!!
So if you live anywhere with an airport you should totally fly out to our last show with The Oohlas at Chain Reaction on March 6th. If you miss it you are lame and will be sad....OUCH!! But have no fear if you can't make the last minute flight plans to see the two greatest bands on the planet right now. The Oohlas will be everywhere soon and they will be blowing up in about ten minutes flat so you will definitely be seeing more of them real soon.
And as for Lola Ray...we have just posted the first dates of our Southern, East Coast, Midwest and West Tour!! That's right we will be out for the whole month of March and April and we can't wait to see all our favorite friends slowly emerge from the snow and chill into the spring sun as we travel to some of our favorite cities to play our tunes for you fine friends. Dates are literally coming in on a daily basis so please check www.myspace.com/lolaray constantly cause I will be updating it constantly.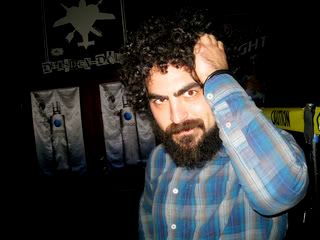 If you look at this picture really hard you can see that look of utter agony that is reflected in my eyes thanks to the total pain of a horrendous pimple in my right nostril!! This shit is ridiculous, is it dangerous to put proactive up your nose? I want my nostrils to be smooth like the angel faces of Jessica Simpson and Mandy Moore... I bet they don't struggle like this. Fuck Them......I'm out
-brian