Look at this thing!!! Honestly....stare into the eyes of this beautiful beast. This piece of total rectal trash has reeked havoc on Lola Ray for far too long!! I won't take it anymore! I know that it is only $1, but seriously. We have returned home today from an eternity of touring with full on rotten internal structures and weakened bone marrow. We are pudgy and doughy and move like bloated sea lions now. The biggest toll this garbage piece has taken is on our new bass player Chris. It has single handedly destroyed his optimism for touring, music, life and caring. He started the tour out as a novice and we introduced him to the double cheeseburger with real enthusiasm. We said "Listen Chris. This hamburger is gonna be your best friend on tour. It is one dollar and will fill you up for exactly 6 and 3/4 hours. It will always be by your side and will never let you down." Yesterday he said "Fuck the double cheeseburger. I hate this piece of trash. It makes me sweat pickles and I see Ketchup stains in my nightmares." I am so so sorry Chris. We never should have done this to you. You were such a good kid and now you just wanna......
I would like to thank the following CD's for keeping us sane and keeping us reminded of why we love music;
The Oohlas lent us this record and we "accidentally" forgot to give it back. This CD is so good , but it is kind of cheating to have Paul Simonon play bass for your band. It is like asking Michael Jackson to be your back up singer or something. Either way, this disc got played more than any other on this tour.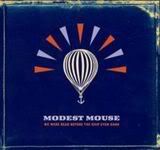 Modest Mouse has been my hands down fav since senior year of high school and "The Lonesome Crowded West" collided and first introduced me to the sweet feelings of being totally pretentious. I have never been a Smiths fan so I was kind of indifferent to Marr's involvement in the record, but this CD is 100% the shit! If anyone tries to even holler "sellout" over this CD I will straight up octopus whip a punk for talking total nonsense!!
I never really liked Kings Of Leon and am not quite sure if I do now, but either way this CD is way good.
We were really lucky to play with these guys in Salt Lake City the other night and I was totally into this band. When we put in the CD the next day we were jealous of ourselves for getting to play with such a great band. They are out on tour with Mute Math right now. They are a total mash up of early Weezer, Pavement and Elliot Smith. A pretty yummy mash up if you ask me.
So we are officially home for the next month and I can't ever relax, so I will be posting this piece up like crazy. I probably won't have anything interesting to say, but I will milk the humorous moments of our last voyage for all they are worth. Coming up in the next blog week is the highly publicized "Interview with our Bass Boy Chris Upton", a fabulous string of text messages that is simply entitled "LA in a nutshell.......Are you the owner of Sky Bar?" and a little gem I am working on called "Lorelai Gilmore I think I love you."
Stay tuned and prepare for the boredom to take control......
-brian