So here's the deal. If one more person tells me "I don't know what happened. It was 70 degrees and sunny here yesterday" while I rub snow from my dampened curls, I will kill someone. We have honestly been in a snowy hell for the last week and it is horrible. The other night I turned on CNN and the leading story was all "A COLD SNAP HITS THE MID WEST AND EAST COAST" and I was all "Sucks to be them" and then I was like "Oh crap! I am an idiot! I am in the east coast and mid west! No wonder I am watching CNN in a parka."
The other night we played in the charming and quaint village of La Crosse, Wisconsin. I was immediately struck by the signage in this town and immediately went on a photographic scavenger hunt of some of the best signs I could find.
I am totally enrolling in the scientific college of beauty barbering next semester. It is perfect for the man who has a more than passing interest in science but a true calling for beauty barbering.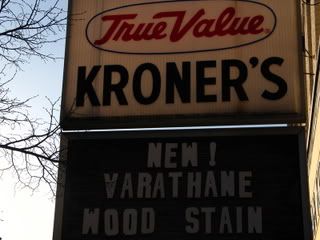 I like that they totally re worked the marque at this hardware store to give top billing to the varathane wood stane that they just got in.
It doesn't get much better than "We hav great donut." My immediate response was "Really, only ONE great donut?" Just priceless, and for some reason I love that the bakery is named Consumers.
Even Lola Ray got in on the La Crosse sign craze as we were immortalized in the venue window with one of the most psychedelic posters I have ever seen. This poster is so hot! It is totally the same color scheme as Bubble Yum Cool Burst!
Oh La Crosse, I could stare at your signs for days!
Chris met the easter bunny in Chicago!! He is totally humping the good bunny's leg.....
I think this might be the scariest photo ever taken of me. I would like to thank Beck for making me stand in a creepy alley so this photo could happen.
This is what John and Beck look like when they are scared!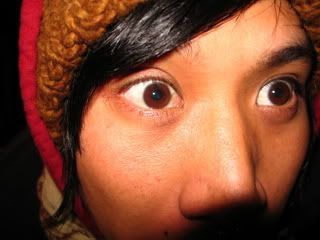 By the way, I totally wasn't kidding about the Lola Ray tattoo photo post. We are gonna document every beautiful piece of Ray inspired ink. This sweet piece is from tonight's show in Omaha. I totally thought this picture was Sharpie when I saw it, but it's not. This is the second tattoo in like a week!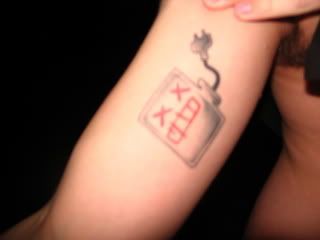 Last night we all watched an American Gladiators re run on ESPN Classics in the hotel and were blown away by the shows poor production value and mediocre athletic performances. I remember this show being full of real Gladiators and really great clothes.
So the tour has been really great but definitely REALLY long to. I think we all have some pretty crazy California fever and can't wait to get back. Personally I am going straight back to MALIBU if you know what I'm saying (just watch the video!!!)
See you there!!
-brian