Hello friends-
I am so amped to announce that we will be playing a one off show with our old friends and tour mates Sparta!! The show is at UCLA on May 2nd and all the info is on our myspace page. Supposedly the show is for UCLA students only, but I also heard today that tickets will be available to everyone on the day of the show. Either way, don't miss this show cause like Sparta slays and we will do our best to keep up with them.
In all honesty I will be fine if no one shows up for this show because I just want an excuse to hang with these guys again. I am gonna bring tons of alcohol to make sure that Jim gets nice and toasty and proceeds to tell me hours of stories. Jim Ward is honestly the best storyteller I have ever met. He makes me want to build make shift hobo fires wherever he is so I can warm my hands and listen to tales of his fascinating life. It is so ON!!
Speaking of Sparta, I have finally taken this time off to do a little research on this King Leonidas fellow that everyone has been saying I look like....um......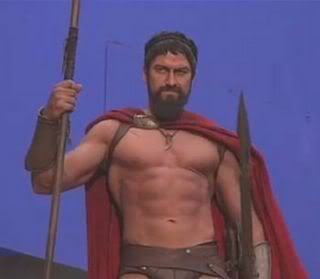 ............uuuuhhhhhhhhh.........What can I say? I don't see the resemblance so much in the face, beard, or hair, but other than that it's a total dead ringer!! We look like brothers...........That is totally what I look like when I slay lions.
I found this awesome clip when I was searching for scenes from "The Wizard." I totally forgot that I was like three seconds away from making this my Senior Quote in my High School yearbook.
Can you imagine how stupid I would have felt? Looking back on my high school memories and being reminded of what a total idiot I was. I am so happy that I went with a quote from Bill & Ted's Bogus Journey instead!!
I just posted a bunch of new dates on our myspace and they are gonna keep on coming for the next couple of days. Our little two week tour with Sirens Sister and Cavil At Rest is totally gonna have no days off!!! I am thrilled because I hate days off....it just gives me more time to look up super stupid shit.........
Can you imagine a grown up human being actually writing the script for this movie? Is it just me or is that the most romantic scene in the history of all Cinema? How is it that I was in love with Jenny Lewis when I was like five and am now 25 and am still in love with Jenny Lewis. Weird right?
Our drummer Beck has taken up a new interest in photography and has asked me to post some of his super awesome compositions here. These pictures are really nice and they fool me into remembering tour as a long, dusty winding road of happy memories and cowboy sunsets.
This picture makes tour look like a Parisian still life.....which of course it is.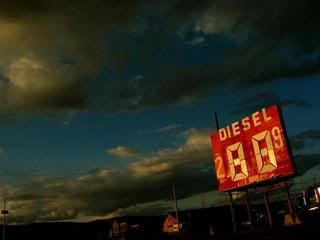 If I was actually looking for Diesel I would be way pissed that that sign is like 100 percent illegible. It is a nice sign though.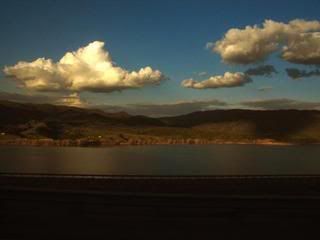 There I am, King Leonidas in the flesh!
Fuck all the haters and mad love to the skaters. Tell all the bro's to kiss my ass
-brian