I lived in Brooklyn for three years and I am still a tourist in New York. I can't help it, everything I love in the city just happens to be what everyone who visits from Ohio happens to love too. When I was living in New York I clocked serious hours at Central Park, ate dinner in little Italy and most importantly I spent every afternoon at my favorite Starbucks in the whole universe!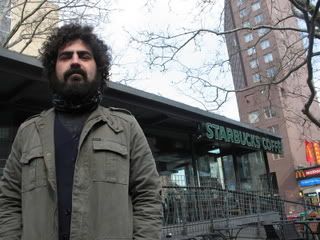 This is the Starbucks at St Marks and 3rd ave and it is like heaven on earth to me. I initially sought it out when I moved from California because it is the only Starbucks in the city with an outdoor patio. I soon found out that New York has a bitter pill that they call winter, but still I sat outside in the freezing cold and snow. I would sit here for hours filling notebooks with observations about all the junkies that have permanent residency at this place. The junkies here became the center of my own imaginary universe and I chronicled their lives. I still have no idea why junkies love sitting at Starbucks so much, but it is a passion that we share and who am I to judge anyone else for pursuing a lifestyle that I hole heartedly condone. I once saw a fight here that toppled into a bus stop and eventually into the street, but for the most part these were a peaceful people who mostly enjoyed McDonalds, Sparks, and borrowing my cell phone. Anyone who tries to claim that Starbucks is destroying the city can just march on down and check this place out for a bit of old time New York charm.
It should come as no surprise that my favorite restaurant in New York is actually just a stall of vending machines. This place is what I picture Japan to be like, except in Japan you can buy everything from vending machines like cars, boats, haircuts and really great style. Oh wait, I don't think they have boats in Japan cause they have had hoverboards over there for like fifteen years already. In the future there will be a more efficient way of delivering Chicken Pot Pie Kroket, but in the meantime this will totally do...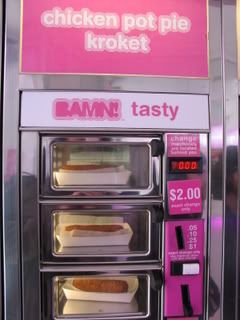 And for those with a more mature pallate, I give you Roast Pork Bun out of a vending machine. Its basically the culinary equivalent of buying a tuxedo at Target.
For the ultimate tourist experience, I took Beck and Chris to Magnolia cupcakes in the west village. We waited in line behind bridge and tunnel housewives who had just been to a taping of the Martha Stewart show and I was once again in my element. We chatted about Rachel Ray and how we were totally "cheating" by having cupcakes.
The other best part about being back in New York is getting to see all my favorite New York friends. We spent the day with ex-bassist James and he is doing great. He has been spending his time cultivating an active caterpillar on his upper lip and somehow becoming smarter than he ever was.
He came out to the show and met our new bass player Chris and it was like a beautiful passing of the torch. Stay tuned for a hard hitting expose all about Chris. I think it is gonna be called The Man, The Myth, The incredible groomed facial stubble...
Last, but not least, there is a new rule here at The Lola Ray Blog Headquarters International. All those fine Lola Ray Tattoo's now get immediate entry into the blog and all the acclaim that comes with such recognition. Here is a sweet new piece from the show in Chicago, displayed next to John's magnificent ink
Peace out all you fine stallions. I am gonna sip my Green Tea Frappucino Double Blended Creme and watch The Outsiders with my man Beck.
-brian